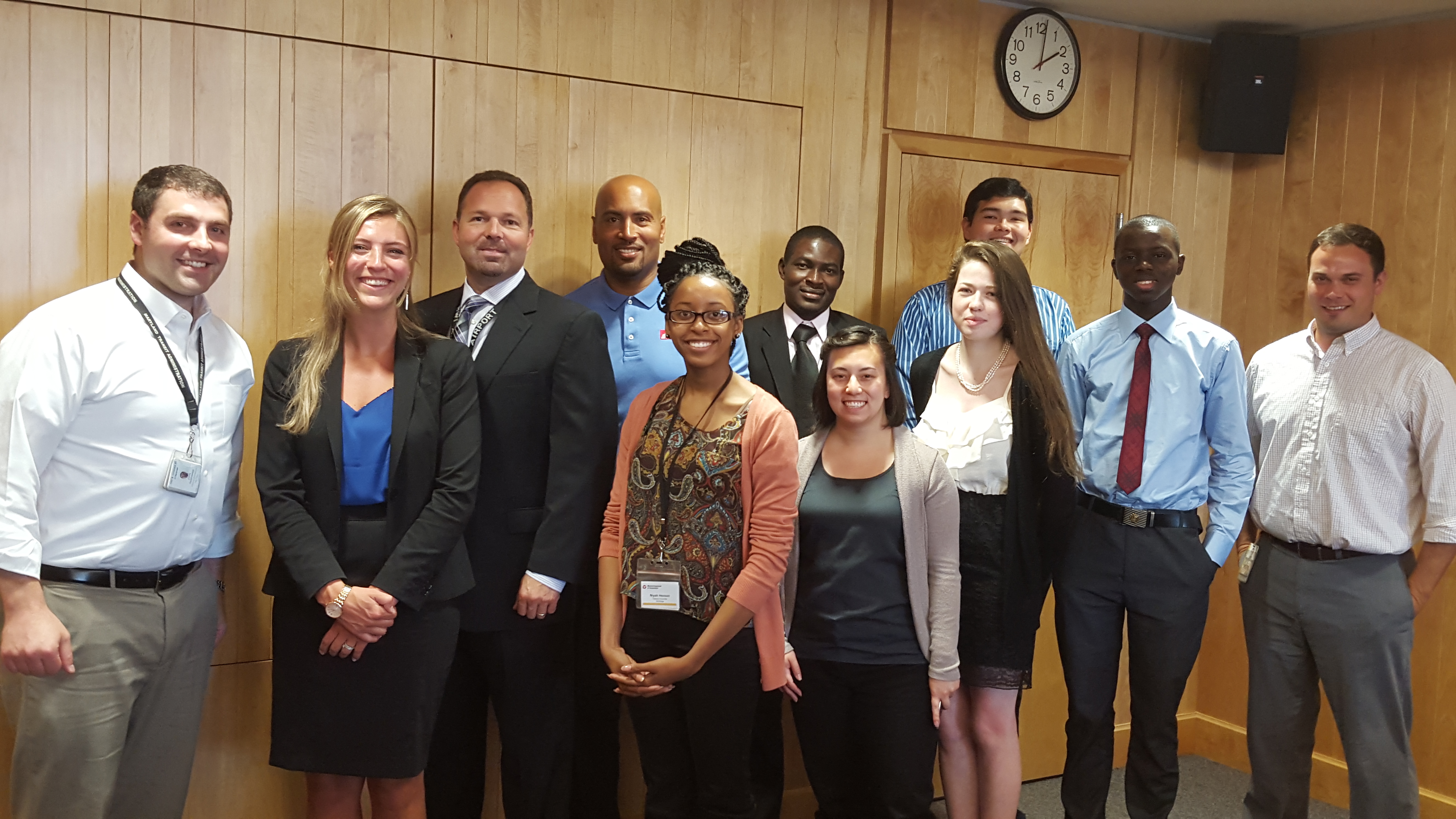 There are a total of ten fellows participating in UMBC's MDOT Fellows Program this year. Those ten fellows represent five colleges and universities and more than ten different areas of study. Despite the incredible diversity of backgrounds and areas of study, each fellow was matched with one of MDOT's modal administrations and gained valuable experience working closely with executive leadership on various projects.
On Tuesday afternoon, YPT Baltimore had the honor of connecting seven of the ten fellows with two established leaders in the Baltimore Region's transportation industry. BWI's Chief Operating Officer, Wayne Pennell, was more than willing to meet with the fellows at the request of YPT Baltimore and UMBC's Program Coordinator for Applied Learning, Hannah Schmitz. We are especially grateful that Pennell was able to attend as he recently took on CEO responsiblities while BWI transitions into new leadership.
The MDOT fellows were also treated to a bonus visit from the airport's Director of Parking and Transportation, Ralign Wells, who was able to provide a different but complementary perspective of the industry. Pennell was able to speak from experience in the Army, and on a career in aviation in the private and public sectors. Wells described a career begining in public service as a bus driver, making it all the way to MTA administrator before bringing his leadership skills to BWI. Both Pennell and Wells enthusiastically shared their stories about their professional careers and generously provided insight on how the fellows could find their own success in the transportation industry.
The young fellows asked thoughtful questions about what motivates professionals in the transportation industry, and how those motivations change in the private sector versus public sector. Then fellows asked Pennell and Wells, and members of the YPT Baltimore board, about their own motivations and mentors while working in transportation. Reflecting on the lunchtime discussion, the major theme was that of building relationships. Pennell emphasized relationships and building a professional network throughout his talk with the fellows who ended the lunch eager to find mentors and make connections.
YPT Baltimore can not agree more with the importance of relationships and making connections. That is what this lunch and our events are all about. That said, we hope to continue a longlasting relationship with Hannah and the MDOT Fellows Program in order to provide similar experiences to future participants.
Check out photos from the lunch!